Why Buy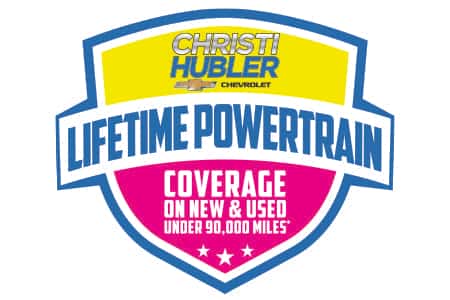 LIFETIME POWERTRAIN COVERAGE
COMMITMENT FROM CHRISTI HUBLER CHEVY
Our LIFETIME POWERTRAIN coverage is designed to give our customers the peace of mind buying that all customers should enjoy.  Like all complicated mechanical machinery, routine maintenance is paramount in keeping your vehicle running well and extending the longevity of your driving experience.
The customer understands that the Insurance Company requires the customer must do 100% of all manufactures recommended maintenance including the oil changes and tire rotations within the specified intervals of the contract; this includes both new and used vehicles at the selling dealer (Christi Hubler Chevrolet) In order to keep the warranty/"powertrain coverage" valid.
Oil changes and tire rotations must be performed a minimum of EVERY 6 MONTHS OR 6,000 MILES (whichever comes first) OR as recommended by the vehicle manufacturer (if it is required more frequently) performed at our service department. These maintenance intervals must be done within 1000 miles OR 1 month (whichever occurs first) of the specified standards. This is the max extension of "leeway."
By servicing your vehicle at selling dealer they commit to maintain all customer service records within their system to keep your warranty valid should a breakdown occur.  If the customer is missing any regularly scheduled maintenance receipt the insurance company will void your warranty. By servicing your vehicle with CHRISTI HUBLER CHEVROLET this will be avoided as all records will be kept within our computer system. If a breakdown occurs, you must bring your vehicle back to the selling dealer for the repair unless more than 300 miles away. If this distance applies, please call dealer ASAP for additional guidance.